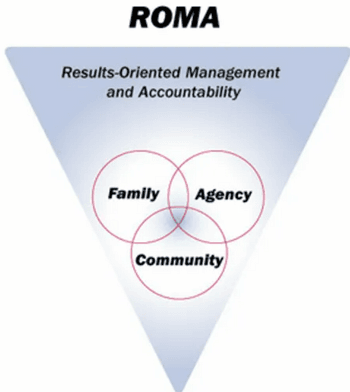 Results Oriented and Accountability
Results Oriented Management and Accountability, or ROMA, is a performance-based management system used by the Community Action network nationwide. Using outcomes as its foundation, ROMA's aims are continuous program improvement and accountability. Community Action is about identifying and addressing causes and conditions. ROMA helps us measure progress towards this. Assessment, planning, implementation and evaluation (aka the ROMA Cycle) are at the core of ROMA.
The Region 8 RPIC, in partnership with the Association of Nationally Certified ROMA Trainers and the Colorado Community Action Association,  supports State Associations and State Offices in providing ROMA trainings and support for members in Region 8. Trainings can be conducted via in-person full day trainings or virtually through a three part series of 3-hour webinars. All local COVID protocols will be followed for in-person trainings.
The Region 8 RPIC also supports staff from local CAAs in working to become Nationally Certified ROMA Trainers and Implementers.
Please complete the following form if you are interested in receiving a ROMA training for your agency or if you would like more information on becoming a Nationally Certified ROMA Trainer or Implementer.