CAP Utah 2nd Annual Virtual Conference - June 24, 2021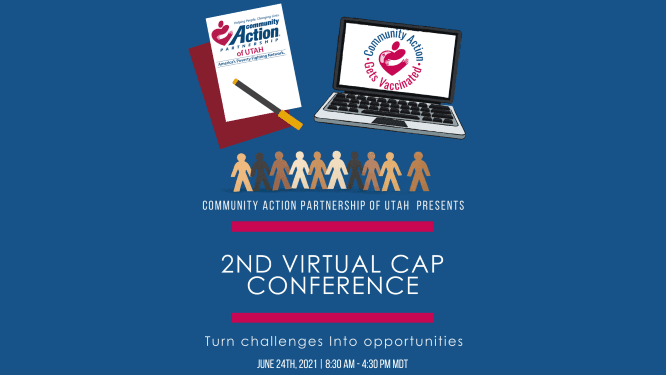 Community Action Partnership of Utah Presents Virtual CAP Conference! 
WHAT: Join Community Action Partnership of Utah for its 2nd Virtual Conference on June 24, 2021. We will hear from a wide range of experts – including individuals from the Utah Department of Workforce Services – Housing and Community Development Division, The Office of Community Services – US Department of Health and Human Services, National Community Action Partnership, the National Association for State Community Services Programs, WIPFLI, the Nonprofit Risk Management Center, the National Community Action Foundation, and other respected organizations.
DATE: June 24, 2021    
COST: $20 (25% discount available for Region 8!)
ADDITIONAL INFORMATION: This year's theme is "Turning Challenges into Opportunities." COVID-19 has brought new challenges, made agencies rethink their strategies, and revealed that not all groups of people have recovered physically and economically at the same rate. For all the challenges, there are new resources, innovations, and partnerships emerging to help agencies refocus their work, create efficiencies, and improve families and communities. Much of this work will center around ensuring equable access to opportunity.

The keynote speaker will be Dr. Gail Christopher, Executive Director, National Collaborative for Health Equity.

This conference will include sessions such as:
Building partnership around equity
Managing Data Equity Risks and Rewards
Analyzing Data for Better Performance
Best Practices for Rapidly Hiring Short-Term Staff
Updates to Uniform Guidance
Weatherization Reauthorization - Changes to WAP and Enhancement and Innovation Funding Opportunities
Whole Family Case Management: Focusing on the Need of the Family and Not Just on a Service
Advocacy - Connecting with your Federal Delegation
And More!
REGISTRATION: Click here to register!  *Get a 25% Region 8 discount if you register before May 31, 2021 and use promo code "R8CAP21"!
---
Region 8 Virtual ROMA Training - August 5, 9 & 12, 2021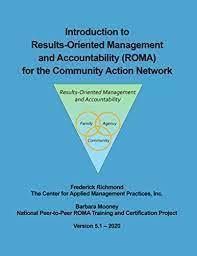 REGION 8 VIRTUAL ROMA TRAINING!
WHAT: The Region 8 RPIC is excited to host the first-ever Virtual Region 8 ROMA Training!  Region 8 includes: Colorado, Montana, North Dakota, South Dakota, Utah, and Wyoming.  Attendees will have the opportunity to receive the entire ROMA curriculum training over the course of three days in three-hour segments. Additionally, this virtual training replicates the interactive nature of the ROMA in-person training with many group exercises, activities, and discussions.  We ask that you share your video during the trainings, and be prepared to work together as a group and in break-out rooms throughout the three sessions.
DATES: August 5, 9, and 12, 2021 
TIMES: 10:00 am CT - 1:00 pm CT/ 9:00 am MT-12:00 pm MT
COST: FREE, including materials (only one participant manual per attendee)!    
ADDITIONAL INFORMATION:  Live attendance at all three sessions is required for course completion.  The training will not be recorded.  The training is open to all local CABG-eligible entities/Community Action Agencies from Region 8.  Registration is limited to 20 attendees on a first-come basis.  The Region 8 will host additional virtual trainings in the future, no details available yet. 
REGISTRATION: This session is full.  Please check back for future dates. 
---
Coping with COVID Webinar Series - January 2021
Coping with COVID is a webinar series offered by Kay Glidden and Beth Reynolds Lewis from Compassion Resiliency. Each webinar provides different tools and resources you can use right now to increase your resiliency through COVID-19.  The agenda includes: Meditation, Tools you can Use Right Now, Discussion on Your Coping Ideas, and Mindful Movements.  Attendees are welcome to attend one, two, or all sessions!  Registration is required and is offered on a first-come, first-serve basis.